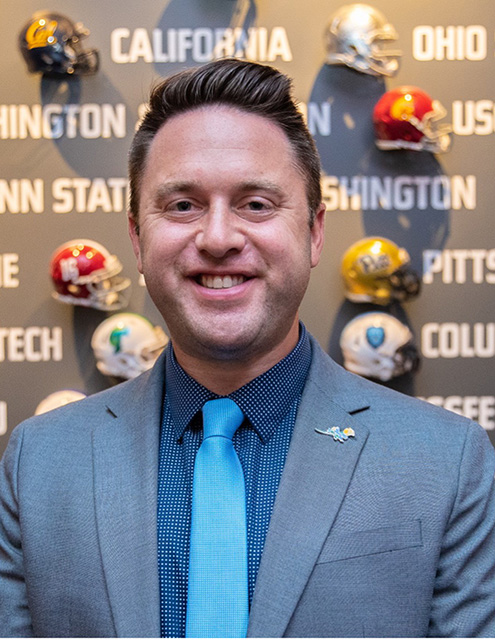 Dedan Brozino is the Chief Development Officer at the Rose Bowl Stadium, leading its 501c3 Rose Bowl Legacy Foundation. Dedan brings nearly 20 years of sports administration experience with a heavy background in fundraising, resource acquisition, sales, and marketing to the position. Mr. Brozino is primarily responsible for developing a strategic long-range fundraising plan for the stadium and the surrounding Central Arroyo through increasing philanthropic resources and financial support through the Legacy Foundation.  Since joining America's Stadium in 2015, his leadership has raised close to $30 million in philanthropic funds from a nationwide donor base in support of the preservation, protection, and enhancement of the National Historic Landmark venue.
Prior to coming to Pasadena, Mr. Brozino served on the Senior Administrative Staff at Long Beach State as the Senior Associate Athletics Director for External Relations, with oversight of all revenue-based activity. During his time on the coast, he managed record volumes of revenue production. His involvement in fundraising included short- and long-term major gift solicitations, stewardship and planning for more than $27 million in capital projects.
During his tenure at the Beach, LBSU's fund development and marketing initiatives were nationally-recognized on 13 different occasions, winning major awards from the National Association of Collegiate Marketing Administrators (NACMA) for grassroots resource initiatives.
Brozino also volunteers time with several community and professional organizations, including the Orange County Youth Sports Foundation (board member), First Tee of Greater Pasadena (board member), NAADD and NACMA. He is also an adjunct sport management instructor at USF and CSULB, while serving as an Advisory Committee member for the Long Beach program.