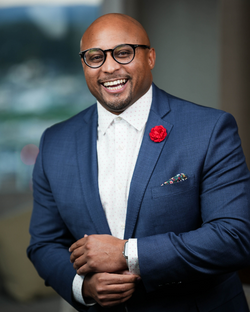 Oyango A. Snell is the Chief Executive Officer (CEO) and Executive Director of California Lawyers Foundation.
Known for his energetic leadership and endless innovation, Snell transforms organizations and the team he represents through the execution of transparent business practices, human development, and empowerment. With over 15 years of association management and leadership experience, Snell challenges internal and external stakeholders to think beyond the impossible to enhance the quality of service, increase revenue streams, and develop and enhance advocacy strategies.
Snell was selected to serve as the chief executive officer for the nation's largest statewide voluntary bar association, the California Lawyers Association (CLA), and its charitable affiliate, the California Lawyers Foundation (CLF), in December 2021. Before joining CLA, he served as Senior Vice President and the first In-House General Counsel and Corporate Secretary for the Western States Petroleum Association (WSPA), representing some of the world's largest energy producers. In addition, Snell has served in leadership roles within national, regional, and statewide nonprofit associations. Within each position, he ensures that his professional and personal passions for championing diversity, equity, and inclusion are not just theorized but practiced.
Snell is a Certified Association Executive (CAE) credentialed by the American Society of Association Executives and is a nationally recognized professional and motivational speaker. He has earned numerous awards and accolades, including the 2021-2022 Association Executive of the Year by the California Society of Association Executives (CalSAE), Columbus, Ohio Business First 40 Under 40, Lifetime Achievement Award by Kappa Alpha Psi Fraternity Incorporated, Delta Zeta Chapter, and Alumni Hall of Fame Award by Central State University, a historically Black college/university (HBCU) in Wilberforce, Ohio, and Snell's alma mater.
Snell earned his Juris Doctor from The Ohio State University, Moritz College of Law, and a Master's in Business Administration from Franklin University. He attained his Bachelor's Degree in Political Science from Central State University. Snell exercises a servant leadership mentality through volunteer service on various boards, including United Way California Capitol Region, where he serves as Chair of the Board of Directors, and CalSAE, where he served as the inaugural Co-Chair of the Diversity, Equity, and Inclusion Task Force.