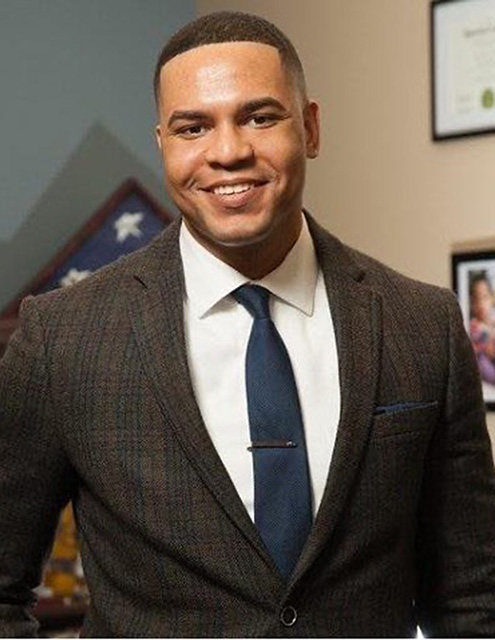 Ryan M. Harrison, Sr. is an experienced labor and employment attorney and civil rights leader. He is an aggressive advocate who leverages his prior experience as a law enforcement officer, human resources manager, and employment law defense attorney to provide effective representation for his clients. He has more than a decade of employment law experience.
Mr. Harrison developed his skills as an attorney practicing labor and employment defense litigation at a top-ranked national defense firm. Prior to that, he was a Senate Rules Committee principal consultant specializing in Senate Labor Committee policy and migrant farm-worker rights. Also, while in the Senate, Mr. Harrison later became the lead investigator charged with investigating dozens of complaints of harassment, discrimination, and sexual assault during the height of the #MeToo movement.
Mr. Harrison attended the University of California, College of the Law at San Francisco (UC Law, San Francisco), formerly known as UC Hastings College of the Law. There, he focused his legal education specifically on employment law, he externed for the chief justice of the Supreme Court of California (Tani Cantil-Sakauye), and he competed on the #1 nationally ranked Moot Court competition team. Mr. Harrison also co-founded a student legislative lobbying corps that helped secure a substantial apportionment to the law school enabling the construction of a multi-building academic village in the heart of San Francisco's Civic Center.
As a practicing attorney, Mr. Harrison has emerged as a civil rights leader with state-wide influence. In response to the brutal extrajudicial killing of George Floyd and many others, the California Association of Black Lawyers (CABL) tasked Mr. Harrison with influencing criminal justice reform in the California State Legislature. From 2021 to 2022, Mr. Harrison partnered with Assemblymember Mike Gipson (Los Angeles) and testified on multiple key legislative items regarding law enforcement use of force, discipline, and the history of police reform in the United States of America. His contributions led to the enactment of bills prohibiting law enforcement choke holds, positional asphyxiation techniques, the prohibition of law enforcement gangs/cliques, and a state-wide process for disciplining and decertifying law enforcement professionals who engage in a pattern of misconduct.
In 2022, Mr. Harrison served as the chair of the California State Bar's Council on Access and Fairness (COAF), which focuses on increasing diversity in the legal profession. As COAF chair, Mr. Harrison addressed racial disparity issues in the attorney discipline process, he oversaw the creation and funding of a public interest loan repayment assistance program for attorneys, and he spearheaded the creation of resources and information for attorneys and law students battling substantial self-doubt, a debilitating phenomenon known as "Imposter Syndrome."
Mr. Harrison serves as a member of the Supreme Court's Blue-Ribbon Commission on the Future of the California Bar Exam; the California Lawyers Association (CLA) and the California Judges Association (CJA) Civility Task Force; the CLA Racial Justice Committee; and he serves on the board of the California Law Foundation. His service on these boards and commissions exemplifies application of his life-long commitment to remove racism and other unlawful discriminatory impediments from our society.
In 2022, Mr. Harrison was the president of the black bar association of Sacramento County, the Wiley W. Manuel Bar Association. As president, Mr. Harrison successfully advocated for the naming of a new 11,000 sq/ft state-of-the-art scholarly publications center at UC Law San Francisco in honor of the late Justice Wiley W. Manuel, California's first African American Supreme Court associate justice. He also helped create and fund an endowment scholarship for Black Law Student Association members at the law school.
Mr. Harrison has received multiple honors and recognition for his work as an employment attorney and civil rights leader. Some of the recognition he has received include:
California Association of Black Lawyers, "Loren Miller Lawyer of the Year"(2021)
Continental Who's Who Registry, Selected for Achievement in Field of Law (2022)
Distinguished Alumni, Rising Star, California State University, Sacramento AlumniAssociation (2017)
Marquis, "Who's Who in America," honored with biographical publication in theLibrary of Congress and the White House Time Capsule (2022)
National Black Lawyers, "40 Under 40" (2021)
National Top 100 Registry, Employment Law (2022)
Rummel Award for Service (nominated), UC Hastings College of the Law, Board ofGovernors (2012)
Sacramento Business Journal, "40 Under 40" (2017)
Super Lawyers®, "Rising Stars" (2021, 2022, and 2023)
Wiley W. Manuel Bar Association of Sacramento County, "Attorney of the Year" (2021)