Our
Work.
Improve access to justice in our community.
IMPROVE ACCESS TO
JUSTICE.
Over the past year, your partnership and strong support of the California Lawyers Foundation has helped improve access to justice in our community, diversify the profession to more significantly meet the needs of California's diverse population and educate students across our state.
Our Highlights &

Upcoming Plans.
A Magazine about CLF's

Success Stories.
The CLF board, our volunteers, and our staff have been busy doing great work and making a positive impact. To keep you apprised of our work, we launched our new publication, Because We Must, to tell our story and set the tone for how we invest in our profession. Because We Must, is designed to inspire, inform, and invite you to make today the day you join thousands of attorneys statewide to chart the pathway for the future of the legal profession.
Read the first issue of Because We Must by clicking the image and flipping through the pages using your keyboard arrows.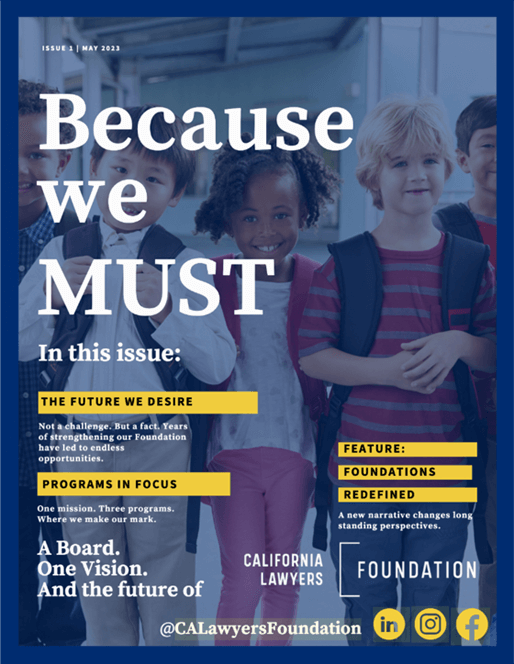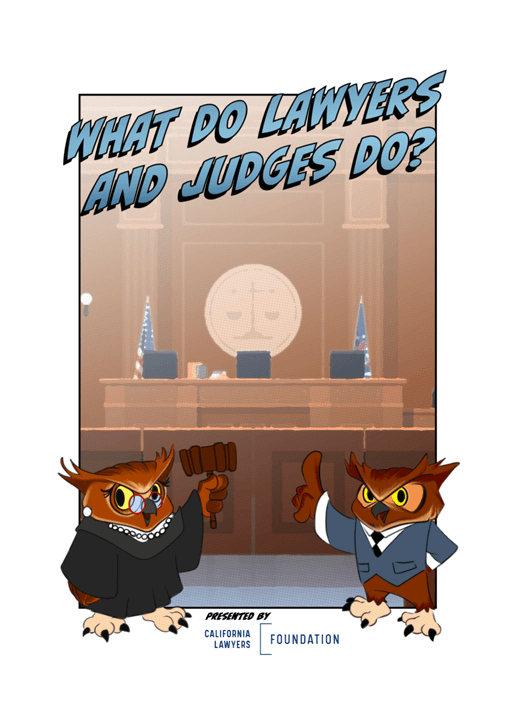 Comic Book:

What do lawyers do?
Creating greater diversity in the legal profession begins in kindergarten and continues through law school. Tools like this comic book serve to engage students at an early age and introduce them to the idea that people who look like them are and can be legal professionals. This comic book is based on the Missouri Bar's coloring Book, "What Do Lawyers and Judges Do?", which was a project of the Missouri Bar Young Lawyers Section and the Missouri Bar Citizen Education Program. We sincerely thank the Missouri Bar for their collaboration on this project!
To order copies of the Comic Book for your classroom, please reach out to info@calawyersfoundation.org.
Brochure:

When You Turn 18: A Legal Survival Guide
Providing civic education and resources is one of our priorities. As citizens of California, your rights and legal responsibilities only change a couple of times and when you turn eighteen is certainly one of them. In 2021, CLF worked with the California Lawyers Association to update this twenty-four-page brochure which was previously a publication of The State Bar of California. This resource covers many of the legal considerations that new adults face including rental agreements and housing, car insurance and road safety, parties and substance use, banking, marriage and partnerships, crimes and consequences, and so much more. With California's diverse population in mind, we have made a digital copy of this publication available in Spanish.
To order copies of the English brochure, please reach out to info@calawyersfoundation.org.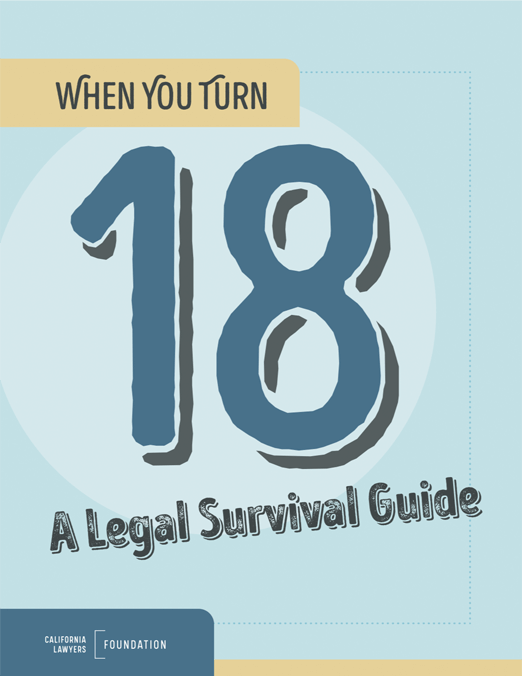 What Motivates Us?

What Fuels Our Why?
Want to learn more about why access to justice, DEI and civics engagement are the focus of our work? These reports and studies explain these critical unmet needs:
Diversity, Equity, and Inclusion
Civics Engagement and Outreach
Educating Californians about the Judicial branch,
the role of lawyers, and the rule of law.